Highlights of the first CENTER-TBI General Assembly
The first CENTER-TBI General Assembly was held on October 11-12th, 2013 at the Zoo of Antwerp in Belgium. The main aim of this first General Assembly was to present an overview of the study plans to all participants, to encourage team spirit, to facilitate discussions between participants and to set the stage for a very challenging and exciting project.
The history leading up to the CENTER-TBI project was described and a helicopter overview of CENTER-TBI was presented following which more detailed information was provided on data collection, the development of the CENTER-TBI database and analysis platform and the repositories on genomics, neuro-imaging and biomarkers/coagulation). Next, the detailed management structure was presented and the administrative and financial aspects of the FP7 grant agreement.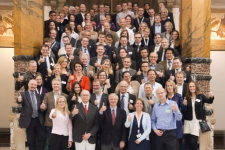 Photo of General Assembly on Oct 11, 2013
The afternoon was dedicated to discussions in smaller groups focusing on: Observational study (CENTER-TBI data collection), Registry, Neuro-informatics/statistics and Genomics, Neuro-imaging, Biomarkers and Coagulation, Provider Profiling and CER, Systematic Review/Knowledge Transfer, ICU, Outcome and Transitions of Care.
The results of these discussions were presented the following morning. Day 2 also focused on data sharing and publication policies, international collaborations and timeframes and lines of communication.
A voting session on strategical decisions was organized in accordance with the CENTER-TBI Consortium Agreement.